Lavenderia Nappycare Full Service Kit Hire

- Newborn & Full Size
Has bubs developed issues with disposable nappies? Want to get rid of that nappy rash? Are you concerned about the environmental effects of nappy disposal? We've sealed the deal for a brand new exclusive service on the Central Coast and we will be up and running from August 2016. Stylish, easy to use, adjustable modern cloth nappies - you pay a weekly hire - we supply, pickup, launder and deliver back. Available in "Newborn" and "Full Size".
Lavenderia NappyCare is Australia's eco-friendly, modern cloth nappy washing and delivery service – providing nappy hire and washing services to families, hospitals and the child care industry. The business was built with a strict focus on eco-friendly work practices, utilising 'cutting edge' laundering and disinfection technology to meet the highest standards of hygiene without using toxic or harmful chemicals.
Read about how and why the Lavenderia Nappy Care service evolved -http://www.ausmumpreneur.com/louisa-forrest-www-lavenderia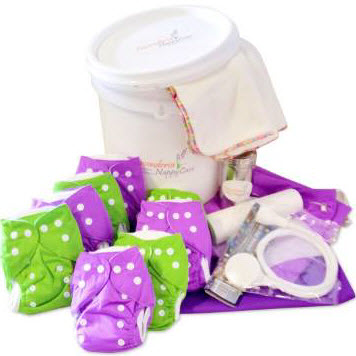 Our Service Kits ensure that you have everything you need to enjoy cloth nappies without the hassle of washing! Your Full Size Weekly Service Kit includes:
• One 15 litre Nappy Bucket for secure and hygienic storage of soiled nappies
• One roll of flushable, 100% biodegradable liners to make nappy changing a breeze
• 50 modern cloth one-size-fits-most pocket style nappies (either newborn size or full size)
• 100 super absorbent microfibre day time inserts, enough for 2 per nappy (+ 10 extra for Newborn Kits to use at night)
• 7 night time super boosters (only available for Full Size Kits)
• One tin of Lavenderia Dry Soak Solution that you simply sprinkle on your soiled nappies to ensure odour control
• Two waterproof, reusable wet bags for easy storage and transportation of your nappies